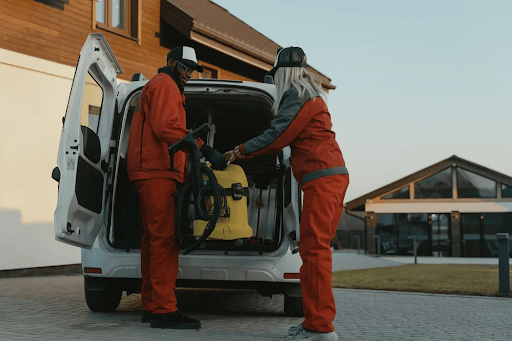 Any commercial or home space would benefit from carpeting as a floor covering. Besides enhancing your flooring, they also add warmth to the room.
Plus, carpets feel so good under your feet when soft and fluffy. Despite their benefits, they aren't easy to maintain. You may not realize that your carpet can hold four times its weight in dirt.
Despite their comfort and aesthetic appeal, rugs can trap several volatile organic compounds and allergens. A dirty carpet can seriously affect an otherwise healthy person. Allergic and asthmatic people may be at greater risk.
Now, this does not mean you should remove your carpets. It means that they should be professionally cleaned now and then by a carpet cleaner. Maybe you wonder why you can't do it yourself.
Besides, you have a vacuum cleaner, anyway. What's the big deal? But, this post will provide detailed information about the reasons you should hire a professional carpet cleaner to clean your carpet. So, let's dive in.
Importance Of Hiring A Professional Carpet Cleaner
Cost-Effective, Detailed Cleaning Results
A professional carpet cleaner like Carpet Cleaning Pretoria provides carpet cleaning services with extensive expertise and proper training. They provide services to several types of carpets like Berber, olefin, cut and loop, cotton, and woolen carpets.
Besides being highly skilled, licensed, and bonded, their technicians are also highly experienced in steam and dry carpet cleaning.
They must inspect your carpet thoroughly from all sides before choosing the most suitable method and solution. Their ultimate step might be to examine your synthetic and natural carpets after sanitation and decontamination.
Gets Into Small Spaces
Cleaning carpets can be tedious when you only use the machine occasionally if you have a small carpeted area at home or in the office. Inexperienced cleaners may have difficulty reaching the corners of the house.
Non-professionals have trouble maneuvering around small cubicles because of the size of most cleaning machines.
If this is the case, hiring an experienced cleaner who knows how to move into small spaces would be best. They will reach every nook and cranny in no time, so there will be no dirt left behind in your home or office.
Enhance the Carpet's Lifespan
As a carpet buyer, you often choose the one with the best quality and unique features that will serve you for a very long time.
When you hire a professional carpet cleaner, they will do a thorough job and ensure that it lasts longer because they will handle it with care.
In addition, they provide that they deal with the delicate carpet material with extreme care, so mold doesn't grow on wet surfaces.
When you clean yourself, you mainly clean to get rid of the dirt you can see, leaving the deeply hidden ground since it is always exhausting. Wet carpets can also produce foul smells and rot, resulting in you having to discard them and lose their value.
Avoid Or Limit the Traffic Lane Effect
Most homes have an area of carpet that receives the most foot traffic. It can be the hallway, the living room, the kitchen, or the space next to another room where you pass frequently.
Compared to the other areas of the carpet that barely get traffic, these areas get the most foot traffic and deteriorate faster.
There is nothing more annoying than carpet lanes that are an eyesore. It would be best to hire professional carpet cleaning services if you want to remove them from the carpet. Through them, you can also eliminate traffic lanes at your office.
Eliminates Germs and Allergens
Clean carpets can prevent diseases from spreading. Hundreds of microscopic organisms and substances can cause illness on your carpets, such as viruses, bacteria, dust mites, and pollen.
Professional carpet cleaners are essential for 70% of people who rearrange their furniture to hide carpet stains. Infectious agents and harmful pathogens can breed on rugs and carpets, causing lung problems and allergies.
Professional carpet cleaners have the tools and cleaning agents necessary to remove these bacteria and contaminants. They use techniques that sanitize your carpets better than conventional methods that spread bacteria or viruses.
Better Equipment and Products For Proper Carpet Cleaning
Several components contribute to the success of the best carpet cleaning companies. Professionally trained carpet cleaners, eco-friendly carpet cleaning products, and powerful carpet cleaning machines are essential for premium carpet cleaning services.
The modern cleaning equipment helps them clean carpeted floors more efficiently and effectively, especially when cleaning extensive areas.
These machines might include truck-mounted vacuums, wet and dry vacuums, stackable air movers, counter-rotating brushes, and floor scrubbers.
Professionals Possess Technical Skills
Simple machines for DIY projects are more accessible but limited to simple cleaning duties. It is best to hire a professional if you have complex carpets that require heavy machines to clean.
It is challenging to learn the tricks and tips of such cleaning unless you have technical knowledge.
Most of the skills you need are not readily available without specialized training. Hiring these professional cleaners will achieve the expected standard and prevent your carpet from wearing out prematurely.
Enhance Indoor Air Quality
HVAC systems heat and cool the air inside your home. Furthermore, they provide minimal air purification since they have built-in filters.
It becomes useless, however, when there's heavy contamination of your carpets with pet dander, urine, spills, or dust. As a result, it would be best to go with a professional carpet cleaning company to take care of this issue. Their carpet cleaning methods can clean your fabrics deeply.
Many forms of cleaning are available today, including hot water extraction, dry cleaning, bonnet cleaning, shampooing, and carbonating.
The carpet steam cleaning process is best for removing pet accidents, stains, and hairs from deep within the carpet. Therefore, it would be best if you trusted professionals to ensure clean air in your home.
Conclusion
The following are a few benefits of hiring a professional carpet cleaner to restore your carpet to its original condition.
If you don't want to risk damaging your carpet long-term and you want to reduce moisture in your carpet, it would help you to hire a professional to clean it for you. Over the long term, it's much more cost-effective, and the professionals know exactly how to treat particular carpets.