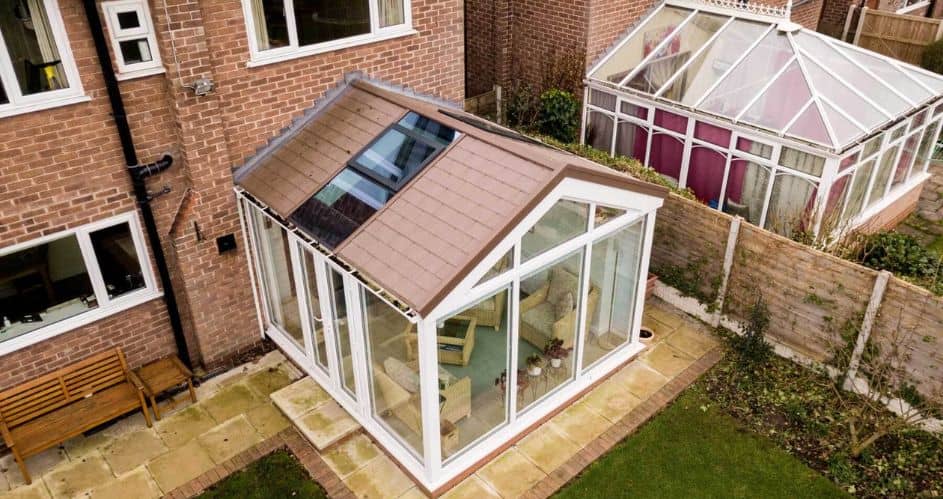 When you think of a roof for a conservatory, you are generally considering either a glass or a polycarbonate roof.
But, gradually, British homeowners are gravitating towards a more solid roof for their conservatories. Glass-roofed conservatories are not very efficient in thermal management.
They are often too hot or too cold, depending on the harsh English weather. Hence, it has become less practical to have those old and unsophisticated glass roofs in the conservatories.
Homeowners don't like losing out on space and are considering modern ways of co-opting the conservatory as an additional useable room.
They are exploring solid roof ideas, like a tiled roof, as a substitute for the older, redundant options. They like the modern trend of a flat roof conservatory, which has the appeal of being an extension of the main frame of the house.
Here are the top 5 reasons why your conservatory needs a solid roof.
1. Creates an additional living space
Glazed or polycarbonate roofs are inefficient in regulating temperature in the conservatory. Because of the lack of insulation, these conservatories can feel like refrigerators in the winter and like furnaces in the summer.
Hence, you cannot use the space freely all year round. If you still want to use the conservatory, you must use a thermostat to create an optimum temperature condition inside. This is neither cost-efficient nor energy-efficient.
Solid roof is the best choice is such condition. This way, you can use your conservatory throughout all seasons. Explore solid roof materials that can keep your conservatory cool during the summer and warm during the winter.
2. Matching the design
The outdated roof styles of conservatories make them look like a separate entity from the main house. The glazed roofs make them look distinct, as most brownstone homes have clay or slate roofing. Modern homeowners don't like the appeal of this look.
The remedy is simple. Add a solid roof to your conservatory to make it look like an extension of your home. This way, you would be spared the hassle of even building an actual extension.
You can find many options for solid roofs, so choosing one that matches the design of your house won't be a problem.
Furthermore, solid roofs can fit any conservatory style and can be of many sizes. If you are looking for a bespoke solid roof that suits your style and needs in London, you can contact Ultimate Roof Solutions.
3. Creates a long-lasting conservatory
British weather is rough on both the residence and the residents. You need the conservatory roof to be robust and resistant to wear and tear due to the weather. Solid roofs, like tiled roofs, are weatherproof and unaffected by rust and corrosion.
Moreover, the glass and polycarbonate conservatory roofs get dirty from collecting dust. You may even find moss growing on them. A tiled roof or any solid roof requires less maintenance, unlike glass and polycarbonate ones, which need to be cleaned at regular intervals.
4. Get extra daylight
Most homeowners argue in favour of glazed roofs because they allow a lot of natural light to enter the conservatory. In the solid roof version, you can install roof lights that can solve the issue of lack of natural light.
5. Improved acoustics
The solid roof is efficient at reducing noise by up to 30 decibels. This way, the conservatory can truly become your zone of peace and relaxation.
Conclusion
Lastly and most importantly, the flat roof conservatories are able to add value to your house. In case you are selling your property, you can list your solid roof conservatory to make a greater impact on the sale price.