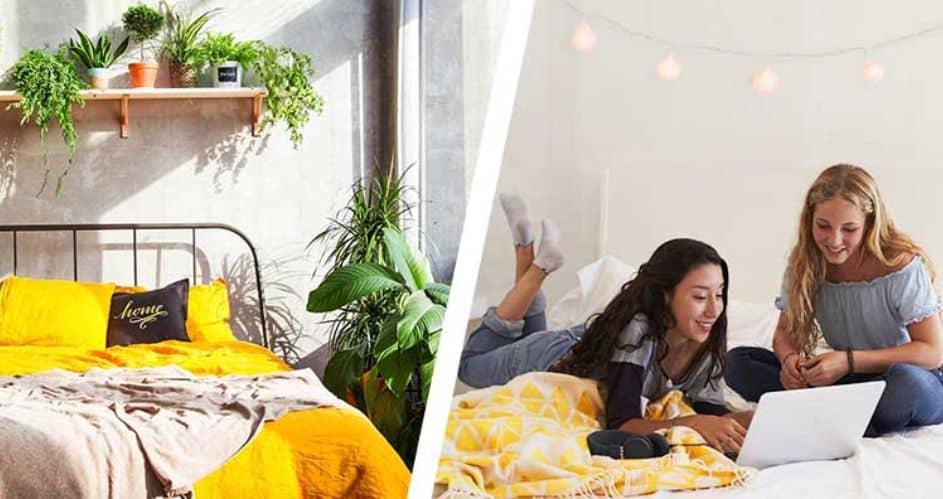 Transforming sterile dorms and bare apartments into stylish, budget-friendly spaces.
Sterile dorm rooms and bare apartments can make college living feel more like a hospital stay than a home. But when school budgets are tight, decorating your space in a cozy, personalized way can be challenging.
When it comes to creating a student-friendly living space, incorporating budget-friendly decor ideas can make a significant difference in your environment, and with the assistance of a skilled paper writer, you can dedicate more time to creating the perfect ambiance.
With some creativity and resourcefulness, you can transform your dorm or apartment into a stylish retreat that reflects your personality – all without breaking the bank. This article will provide tips for students to liven up their living spaces in a budget-friendly way.
Outfit Your Space with Affordable, Functional Furniture
The first step to making any space feel like home is having comfortable, functional furniture. Buying new furniture is often cost-prohibitive for students. Luckily, you have plenty of cheaper alternatives to deck out your space.
Scour secondhand stores like Goodwill and Salvation Army, browse local garage sales, and search Craigslist and Facebook Marketplace for gently used furniture at a fraction of retail prices. This route allows you to find unique, often vintage-inspired pieces that add character to your room.
Try to spot multifunctional items that serve several needs at once – think futons for sitting and sleeping, ottomans with storage space inside, or fold-out desks that can be stashed when not in use.
Apart from typical furniture retailers, don't forget to check more unexpected venues near your university campus. International students may be looking to sell furnishings fast before returning home at the end of semester.
Recent graduates moving to new cities frequently post deals on furniture they no longer need. You might get lucky with locals moving apartments or renovating homes too. Thoroughly inspect any used furniture for quality and safety before purchasing.
If even secondhand finds stretch your budget, it's easy to DIY makeshift furniture with a little imagination. Milk crates make great stacking storage – just tape or zip-tie them together. Use cinder blocks and plywood to construct desks and shelving.
With a fresh coat of paint, you can refurbish old pallets and shipping crates into one-of-a-kind organizers ideal for storing textbooks and displaying photos. Paint is also your best friend when sprucing up flea market finds or hand-me-down armchairs that don't match your aesthetic. Don't be afraid to get creative!
Incorporate Affordable Pops of Personality
Once you've got furnishings covered, it's time to add personality through decorative accents.
For students looking to transform their living space on a budget, exploring student-friendly home decor tips can be a game-changer, allowing you to create a cozy and inspiring environment while saving resources for more important investments, like assignment writing services when academic deadlines loom.
While you can certainly splurge on some statement pieces if your budget allows, you can also pepper your space with smaller touches that reflect your style on the cheap.
Posters and prints are an easy way to dress up bare walls without spending much. Take your pick from affordable online retailers, or print and frame your own art and photos.
Look for prints featuring favorite bands, movies, or motivational quotes. Another way to add visual interest is through creative lighting. String lights immediately create a cozier vibe; use holiday lights or pick up an inexpensive pack.
House plants do double duty by lending life to your space and purifying the air. Low maintenance options like succulents, snake plants, and pothos are ideal for beginner gardeners and busy students. Dot a few plants around your home to bring nature indoors.
You can also make a big impact with smaller decors like throw pillows, candles, and trays. Display photos of family, friends, and places you've traveled to add a personal element.
An area rug pulls a room together and prevents echoing on hard floors. If buying one blows your budget, use a printed tapestry or thrift store rug as wall art or floor covering instead. Get creative with decor to showcase your unique personality!
Maximize Space Through Smart Organization
While spending less on furnishings and accents, devote care to organizing and decluttering your small space. Too many belongings crammed into a tiny area will make it feel cramped and messy.
Invest in storage and organization solutions like cube organizers, stacked crates or baskets that slide neatly under your bed to contain clutter.
Keep surfaces like your desk and dresser carefully curated with only your most-used daily essentials. Store out-of-season clothing under beds or in closets to open up drawers for items you need access to.
The less clutter occupying your space, the more open and expansive it will feel. Regularly purge belongings you no longer use or need. Sell or donate unwanted items to prevent accumulation over time. Proper organization might take some time up front, but makes keeping a tidy, functional living space much easier long-term.
Personalize Your Pad with DIY Projects
For a fully personalized touch, try your hand at easy DIY projects to accessorize your home. You can make an eye-catching garland by stringing old photos or postcards with ribbon or twine. Spray paint mason jars or tin cans in your color scheme to hold utensils and office supplies with rustic flair.
Decoupage colorful magazine pages onto a plain box or crate to conceal cords or bathroom essentials. Pick up an inexpensive canvas and acrylic paint set from the craft store to create original wall art reflecting your interests.
The possibilities here are endless! DIY projects allow you to add custom, meaningful accents that reflect your personality.
Wrap Up
Decorating a dorm room or first apartment on a lean budget requires resourcefulness and a bit of elbow grease.
But with secondhand and multifunctional furniture, affordable prints and string lights, creative storage solutions, and DIY accents, you can craft a living space that's stylish, comfortable, and reflective of your personality.
Making a bare space feel like home is all about infusing it with pieces – whether store-bought or handmade – that bring you joy. With these budget-friendly tips, you'll be well on your way to a personalized student pad you love coming home to!