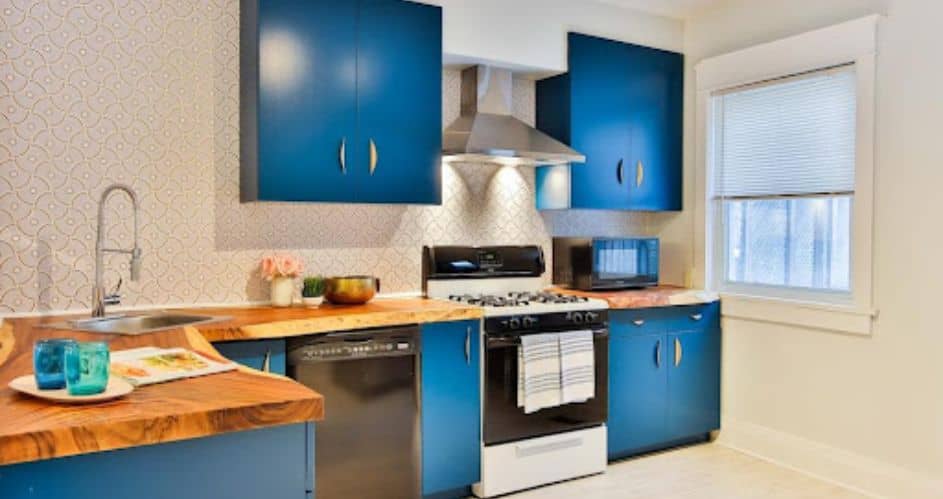 Gone are the days when kitchens were only used for cooking. Now, they have many other purposes, such as eating, drinking, socialising and relaxing. Interestingly, individuals spend around 12% of their lives in the kitchen, which only highlights the importance of designing a space you enjoy.
You may believe that the kitchen is the space where you feed the body, but it is more than that, as it also fuels your mind and soul. This room should radiate positivity and make you feel calm and secure. At the same time, it should facilitate your needs, allowing for a convenient workflow.
And do you know which element of your kitchen can truly make or break the design of the space? That's right: it's the kitchen cabinets! So, if you feel unhappy when entering the room, you may want to refresh it by updating your cabinetry.
What Are the Tell-Tale Signs That Your Cabinets Need an Upgrade?
Kitchen spaces can greatly impact your mood, and if you feel like the design no longer feels inspiring, upgrading your cabinets will considerably boost not only this room but the value of your entire home. Here are some signs that indicate it is time to explore new kitchen cabinets:
Outdated Design
Kitchen cabinet styles tend to fall out of favour as time goes by, so if your cabinetry feels dull, consider changing it. Fortunately, there are lots of ideas online if you lack inspiration – just google kitchen cabinet trends, and you'll come across many results that will help you boost the aesthetics of your kitchen.
Overwhelming Wear and Tear
Cabinets can get damaged over time, showing signs of dents, nicks, scuffs, scratches, etc. This reduces their cosmetic appeal, inevitably impacting the kitchen's overall design. Not to mention that if they fall off the wall, you shouldn't wait to get new cabinets, as this will help prevent further damage.
Mouldy Cabinets
Mould accumulation and odd odours make a kitchen very unappealing! Not only that, but mould growth can also have an impact on your health and your family's health, as it can cause allergic reactions.
So, if you spot moisture damage or water exposure, this is a clear sign that your current cabinets no longer have a place in your kitchen.
Lack of flow
Sometimes, one of the biggest problems in a kitchen is the layout, as it may not suit your habits and lifestyle, causing an inconvenient workflow. This leads to frustration and makes it challenging to keep the space clean and organised, so in this case, it only makes sense to upgrade the cabinets and improve flow.
Limited cabinet storage
If you have a passion for collecting unique glasses and mugs, your current cabinets may make it difficult for you to grow your collection if they don't provide enough space.
This can feel incredibly frustrating, forcing you to look for storage options for your kitchenware placement. But this doesn't have to be the case; upgrading your cabinets will allow more storage space for kitchen utensils and supplies.
Important Considerations When Choosing New Kitchen Cabinets
Getting new kitchen cabinets will indeed improve your home resale value, but personal enjoyment matters just as much. Let's take a look at the most critical factors to consider when upgrading your cabinets.
The anatomy of the kitchen cabinets
It can be challenging to navigate jargon when searching for the right cabinetry, so let's clarify the terminology to make things easier for you.
Different cabinet types are available, including base cabinets (which rest on the floor), kitchen wall cabinets (just as their name suggests, attached to the wall), and pantry cabinets, which are great options if you're looking for plenty of storage space.
Materials
This is a factor that you'll want to consider carefully because it will have an impact on the durability, appearance and maintenance of your kitchen.
Most common kitchen cabinet materials include plywood (a cost-effective option); solid wood, which provides great durability and a warm appearance; MDF, which is resistant to warping; and thermofoil, which comes in many finishes and colours and is a low-maintenance option.
Style
Kitchen cabinets come in various styles that suit each homeowner's preferences, with popular options including shaker, flat-panel, beaded, raised-panel, and so on. To choose a style for your kitchen cabinets, figure out whether you prefer a minimalist look or want to achieve a classic design.
Door Type
Cabinet doors have a significant impact on the functionality and appearance of the kitchen cabinets, so it's essential to take the time to choose the right door type.
These can include full-overlay, offering a seamless appearance; partial-overlay, which leaves space between doors; and inset doors that are ideal for a custom look.
Hardware
Cabinet hardware like pulls and knobs are more important than you think, having the potential to transform the look of your cabinetry. Our advice is to opt for hardware that complements both the style of the kitchen cabinets, as well as the kitchen design. You need to buy these hardware from professionals like Design Theory Hardware.
Customization
If you're looking for flexibility in the cabinetry's design, storage, and finish, opting for semi-custom and custom solutions is a good idea. They are generally more expensive but worth the investment, as they can be personalised based on your preferences and needs.
Sustainability
Choosing eco-friendly cabinetry is a vital way to reduce your environmental impact  while ensuring your home is healthier. Hence, consider choosing CARB2-compliant cabinetry that follows strict design standards and provides better indoor air quality.
Last words
Picking suitable kitchen cabinets plays a massive role in ensuring your kitchen is both functional and aesthetically appealing. There are many factors to consider before making a decision, such as style, material, storage, and so on, so it's important not to rush the process and take the time to think of each aspect thoroughly.
That way, you can ensure you will get a kitchen cabinet that aligns with your vision, thus creating the kitchen of your dreams where you can bond with your family, share meaningful conversations with friends, and learn new recipes.