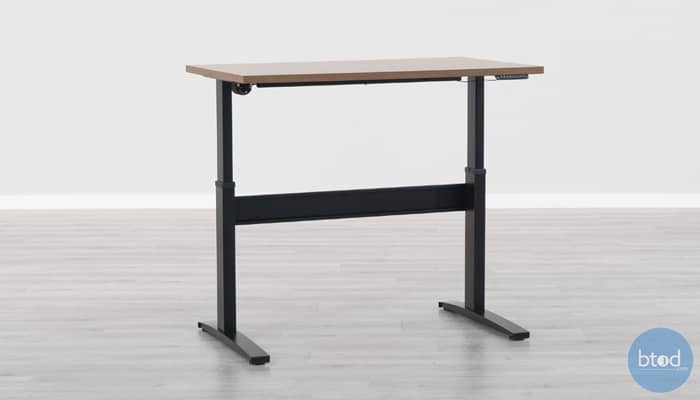 Minimalist design, ergonomic workplace, functionality, quick and easy table transformation – these are the features and qualities you can get in one product that will for sure change your life.
Obtain more benefits by alternating sitting and standing. These unique desks are created in accordance with the recommendations of the leading doctors and health specialists to become an absolute ergonomic solution for your home office.
After a long period of pandemic, many people around the world continue to work from home transforming the balcony or any other room into a convenient workstation.
When looking through the  catalog of adjustable desks customers typically get lost in the choice and cannot understand what influences the price and how to choose the eligible model.
When talking to the Progressive Desk manufacturer, they created a fantastic online tool that allows potential clients to select separate parts, details, and accessories and construct the appropriate desk just by using them.
So, you do not need to go to the specialized store to watch the available options they have there, you simply build the adjustable desk online, applying all the possible opportunities and controlling the price.
Why Is Working Standing So Useful?
The benefits of working at height-adjustable desks become obvious after two weeks as users say. Below are the major positive changes you can get after a short period of use of course if you use it according to recommendations: proper balancing of sitting and standing.
Productivity
Our body gets energy from food and proteins and fats present in the body. If you sit all the time, then energy can come only from food.
Alternating body positions during the working day is the easiest and most effective way to get energy from fat reserves.
You increase your energy level and easily reduce fat deposits, reduce excess weight, increase your productivity and stimulate mental activity.
Health
People with back pain are not allowed to sit for a long time. Tables with height adjustment are the optimal solution. People who sit for most of the day are 54% more likely to die from a heart attack.
By changing the position of your body every 45 minutes, you will strengthen your back muscles and get a healthy spine. It is also good for posture and self-confidence.
Profit
By changing your body position during the day, you will be more productive. You or your team will work more efficiently and with fewer errors, you will close projects faster without breaking deadlines, and your profits will grow along with the image of your company.
What Do The Studies Say Concerning The Use Of Standing Desks?
Numerous studies show that working in a sitting position for long periods of time is bad for your health. A study in the journal Medicine & Science found that people who sit for most of the day are 54% more likely to die of a heart attack.
This study included 1700 people over a period of 13 years! According to the magazine, this statistic is true even if the people in the study did not smoke and regularly exercised.
What Should I Know To Choose A High-Quality Adjustable Desk For Home?
Check The Materials Used
It is important that the materials and components are of high quality so that the table serves you for a long time and is more environmentally friendly.
For example, Progressive Desk builds all desktops using MDF or particle board of high quality including natural bamboo if you want something really special.
What About The Lifting Columns
Depending on the application, you can choose among the plenty of lifting columns available on the tech market. In addition to the stock of strokes, sizes, and available carrying capacities, for example, telescopic lifting columns are also self-regulated, you simply need to connect them to the electricity.
If you select two or more columns they will work totally in sync. It's recommended to get an online consultation if you want to learn more about the variety of stroke sizes, different shapes as well as versatile weight capacities eligible for any project.
Pay Attention To The Size You Find Appropriate For Your Workstation
You will find out that there are many desk models and sizes, for instance, by selecting the Economy Ryzer model, you can choose among three popular sizes, where one of the most demanded is 48×30.
Or if you know that the desk is going to stand in the corner of the room, it's better to take the Corner Ryzer adjustable standing desk to meet your requirements.
Remotes And Accessories: Seamless Control
There are several ways of controlling your standing desk starting from the simplest ones to highly advanced ones. Of course, the style and feature set determine the necessity to design customizable remotes of different types.
Some customers want their remotes to look modern and trend-perfect, while others are looking for just a user-friendly interface. Find your ideal fit just by giving your consideration to personal needs.
Concerning the possible features of remotes, they may include memory presets, controlling through touch panel display, and height display.
With the Progressive adjustable desk, you will experience absolutely smooth and durable work of all the systems, remotes, and additional accessories.