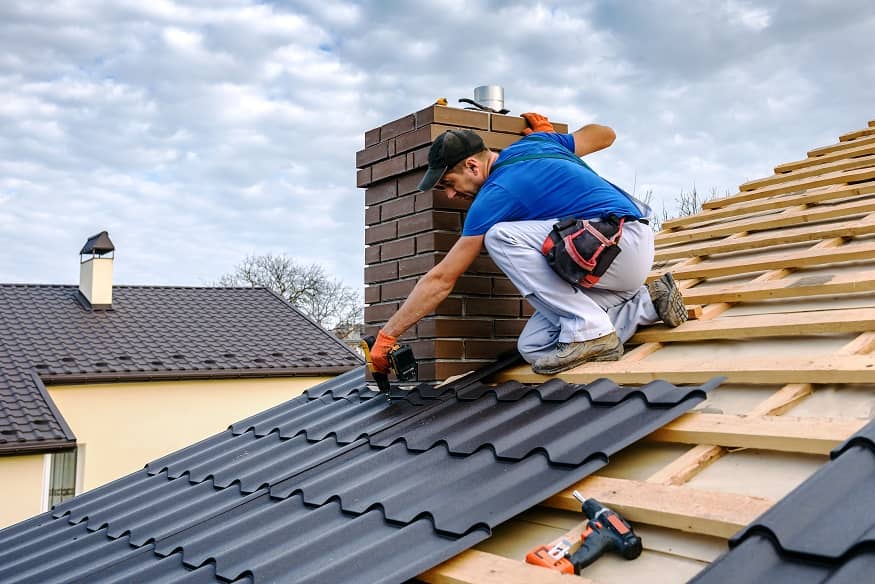 Roof replacement and maintenance can be expensive, and if not done correctly, can lead to even more costly repairs. Not only are there a variety of materials to work with that everyone might not be experienced with, but the roof construction and installation itself can be confusing with different designs, shapes, and sizes.
This is why it's important to verify that the roofing company you plan to hire is experienced, licensed, insured, and has a good reputation in the industry. Paramount Builders have years of experience in the roofing industry since 1991 and come highly recommended in Jacksonville.
When looking for a roofing contractor, be sure to ask around and get personal recommendations.
You can also look up roofing companies online and read reviews from past customers. Once you have a few options in mind, contact the roofing contractors and schedule consultations.
Steps For Finding the Right Roofing Company:
1) Do Your Research.
Just like with any other home improvement project, it's important to do your research when hiring a roofing contractor. Ask friends and family for recommendations, and check online reviews.
It's also a good idea to visit the website of the National Roofing Contractors Association (NRCA) to find a list of reputable contractors in your area.
2) Interview Multiple Contractors.
Once you've compiled a list of potential contractors, it's time to start interviewing them. Be sure to ask each contractor about their experience, licensing, and insurance.
It's also important to ask for references from past clients. Licensing is especially important, as it ensures that the contractor is following all applicable safety regulations. Insurance is also vital, as it protects you from liability in the event that something goes wrong during the roofing project.
3) Get Estimates.
After you've interviewed a few contractors, it's time to get estimates. Be sure to compare the estimates carefully, and make sure that they include everything that you want. Also, be sure to ask about any potential discounts that might be available.
Bidding can be extremely competitive, so you might be able to get a lower price if you're willing to negotiate. By getting it in writing, you'll be able to hold the contractor accountable if they try to raise the price after the work has begun.
4) Choose the Right Contractor For You.
After you've gathered all of the information, it's time to choose the right contractor for you. Be sure to choose someone who you feel comfortable with and who you feel confident will do a good job.
CS Roofing company is the most popular contractor for many reasons. They have the resources to handle a variety of projects and can provide a large number of services.
Warranty options can vary, so look out for one that offers the best coverage for you. Some things to keep in mind during the warranty period are:
-What is covered?
-What is the length of the warranty?
-What is the process for filing a claim?
5) Schedule a Consultation.
Once you've chosen a contractor, it's time to schedule a consultation. This is an important step, as it will allow you to discuss your project in detail and make sure that you're on the same page.
Talk with your contractor about your budget, timeline, and any special requirements that you might have. By doing this, you can be sure that the contractor understands your needs and can provide you with a realistic estimate so you can move forward with your project.
6) Discuss the Project in Detail.
During the consultation, be sure to discuss the project in detail with your contractor. This includes discussing the materials that will be used, the timeline for the project, and the cost.
It's also important to ask about any potential discounts that might be available. This understanding will help to ensure that the project goes smoothly and that you're happy with the final result.
7) Get it in Writing.
Once you've discussed the project with your contractor, be sure to get everything in writing. This includes the estimate, the timeline, and the scope of work.
This will help to ensure that there are no surprises down the road. Read over the contract carefully before you sign it, and be sure that you understand everything that is included. If you have any questions, be sure to ask your contractor before you sign.
8) Schedule a Time for the Work to be Done.
After you've gotten everything in writing, it's time to schedule a time for the work to be done. Be sure to choose a time that works for you and your contractor.
You may have a busy schedule, but it's important to make sure that the contractor has enough time to do a good job. Also, be sure to ask about any potential disruptions that might occur during the project.
9) Make Sure the Job is Done Right.
Once the work has been completed, it's important to inspect it to make sure that it was done right. You have paid for a professional service, so you should expect a professional result. If you're not happy with the work, be sure to discuss it with your contractor. They should be willing to make things right.
10) Enjoy Your New Roof!
After the job is done, you should sit back and enjoy your new roof. It's a big investment, but it's one that will pay off in the long run. Be sure to take care of it so it lasts for many years to come.
Conclusion:
In summary, these are some tips to keep in mind when hiring a roofing company:
-Get recommendations from friends, family, or neighbors.
-Do your research and get multiple estimates.
-Choose the right contractor for you.
-Schedule a consultation.
-Discuss the project in detail.
-Get it in writing.
-Schedule a time for the work to be done.
-Make sure the job is done right.
By following these tips, you can be sure that you'll find a reputable contractor who will do a great job on your roof. We hope this article has been helpful, and we wish you the best of luck with your project!