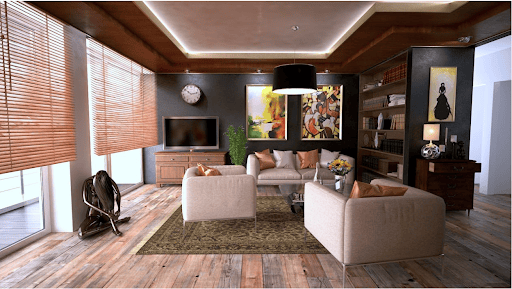 Making your home a cozy haven doesn't have to be hard. With the right design touches, you can easily transform your living space into a cozy retreat.
Whether you are looking for ways to bring comfort and joy to your family or create an inviting atmosphere for guests, there are many ways to make your home a cozy haven.
In this blog post, we will be sharing our top 6 secrets for lighting up your home with positive and cozy vibes.
Why Is It Important to Have a Positive and Cozy Vibe in Your Home
Having a positive and cozy atmosphere in your home is incredibly important for both your mental and physical well-being. After all, your home should be your sanctuary, a place to relax and recharge from the stress of the day.
If you keep your house clean and cozy, positive vibes will automatically come. What's more! It will raise the net worth of your house if you keep not only the interior but also the exterior of the house.
However, it can be difficult to achieve this kind of ambiance if you don't know where to start. This is why we have talked to experts like Dino DiNenna, who specializes in the real estate market of South Carolina.
According to his words, home sellers in Port Royal can demand more than the nmarket price just because of the elegant exterior designs.
Making your home cozier can increase your productivity in addition to making it a more pleasant place to live. It has been proven that the atmosphere of your living space has a huge impact on your mental state.
So if your home is cozy and inviting, it can actually help boost your productivity and creativity. In addition, a cozy home can also help reduce stress and make it easier for you to relax after a long day.
The 6 Secrets to Making Your Home a Cozy Haven
The process of setting up a cozy environment for the interior and exterior of your home is not difficult. All it takes is your dedication and the following tips –
1.Use Soft Lighting
Creating a cozy home isn't just about decorating with furniture and knick-knacks; lighting plays a big part in setting the mood. The right lighting can turn your living space into a serene, comfortable environment.
For more subtle lighting options, consider investing in some table and floor lamps. Different bulbs can emit various tones of light. So it is important to choose the right one for the right atmosphere.
For example, yellow-toned bulbs are great for creating a soft, warm ambiance, while cooler whites and blues can give off a crisp, modern vibe.
2.Candles (The Best Alternative of Lighting for Positive Vibes)
Candles add a touch of romance and charm to any room while also offering some extra illumination. They provide a cozy ambiance and can set the mood for any occasion. Additionally, there are a variety of candles available to suit any décor.
To get the most out of your candle, make sure to place it in an area with good air circulation. The smell of your favorite scented candles can really help create a peaceful atmosphere and add some life to any room.
An enjoyable and creative option is to make DIY candles with the help of candle making wax, which can be used to produce a variety of shapes, colors, and scents.  Whether you use them to light up a dark corner or just enjoy their scent, these candles are great alternatives for bringing a positive vibe inside the house.
3.More Air and Sunlight
One of the easiest ways to give your home an inviting atmosphere is to incorporate plenty of natural light. Pull back your curtains or blinds during the day to let the sunshine in and brighten up any room. If you have access to outdoor spaces, use those as well.
Letting in more air and light can be a great way to make your home a cozy and inviting place. To do this, start by getting rid of clutter that blocks natural light from entering your space.
This means taking a hard look at your furniture and any decorations that are blocking the windows. You should also invest in lighter curtains or blinds that will help diffuse the light coming through the windows.
Another great way to create a more airy and light-filled home is to use mirrors. Place a few strategically placed mirrors around the room to help reflect light and add depth.
This will also give you a better view of the outdoors, which can be especially helpful if you have limited outdoor space.
4.Bring in Nature and Greenery
Bring nature inside with plants! Greenery is a great way to add life and energy to any space. Not only does it provide fresh air and natural beauty, but it can also help brighten up a room and bring in positive vibes.
There are so many options to choose from, including succulents, ferns, herbs, and more. Plus, you can find plants that fit your style and budget.
Incorporate them into your home's interior by displaying them on shelves, hanging them from the ceiling, or even having them as centerpieces. With a few green additions, your home will be full of life and warmth.
5.Incorporate Textures
Creating a cozy home doesn't just mean adding beautiful furniture and décor. A warm and welcoming atmosphere can be achieved by incorporating the appropriate textures. Soft fabrics, cozy rugs, and pillows can instantly make a room feel more comfortable and inviting.
Adding texture to the walls with wallpaper or wall hangings can also be a great way to add warmth and texture to a space. Not only do they look great, but they can help absorb sound, too.
Additionally, soft fabrics can offer comfortable seating options and add some visual interest to a space. So, don't forget to incorporate lots of different textures into your space to create a cozy atmosphere.
6.Use Color Psychology
Adding color to your home can transform it into a cozy haven. Your home will feel cozier and instantly invoke a good mood if you use colors you find pleasing. To give your home a vibrant and warm atmosphere, choose calming colors like blues, greens, and purples.
Try not to use too many bright colors in one room; otherwise, the space may feel overwhelming. Instead, use brighter colors such as yellows, oranges, and reds.
In addition to that, utilize accent pieces such as artwork, furniture, and decor. With the right colors, you can create an inviting and cheerful environment in your home.
Final Thoughts on Making Your Home Cozy
It is no surprise that having a cozy and comfortable home can help cultivate happiness. By following the 6 secrets outlined in this blog post, you can light up your home with positive vibes. This will also allow you and your family to live in a beautiful, peaceful place.
You can also set up a humidifier and use activated carbon filters with these tips to make your space feel inviting and special. With a few simple changes, you can turn your home into a calming and comforting haven.