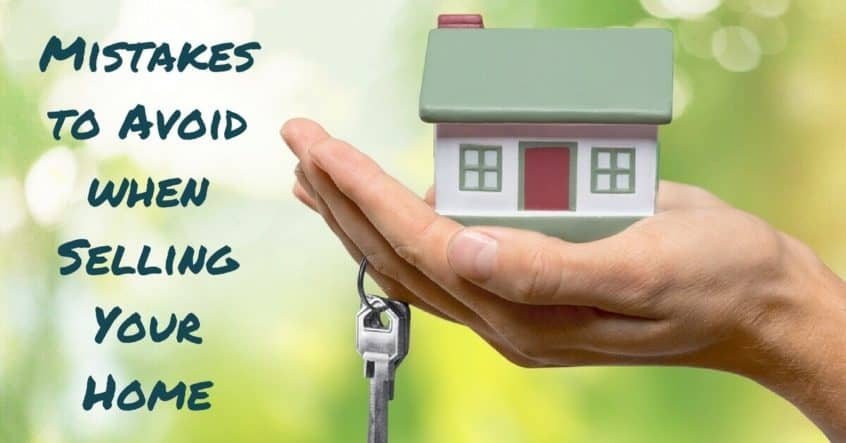 Are you looking to sell your home? If so, it's important to avoid making common mistakes that can cost you time and money.
Join us today as we list some of the most common mistakes made by home sellers and provide tips on how to avoid them.
Avoid These Common Mistakes When Selling Your Home
A real estate broker or home sale professional can help guide you through the process, but it's important to be aware of what NOT to do when selling your home. Some of the most common mistakes made by home sellers include:
1.Not repairing the damage.
2.Painting walls in outdated colors.
3.Not decluttering or deep cleaning.
4.Pricing their home too high or too low.
5.Neglecting the curb appeal.
6.Not to list on MLS.
7.Making common mistakes during the negotiating process.
How to Prepare Your Home for Sale
When you list your home on the MLS, you are competing with other homes in your area that are also for sale. It is important to make sure your home is in tip-top shape before putting it on the market.
This means repairing any damage, painting walls neutral colors, decluttering, and deep cleaning. By making your home as appealing as possible to potential buyers, you are more likely to sell quickly and for a higher price.
Pricing Your Home Competitively
If you want to sell your home fast, you need to price it competitively. This means doing your research and finding out what similar homes in your area have sold for recently.
You can look up recent sales online or ask a real estate agent for help. Once you have an idea of what your home is worth, you can price it accordingly.
Don't Neglect the Curb Appeal
The first thing potential buyers will see when they drive up to your home is the curb appeal. This is why it's important to make sure your yard is well-maintained and tidy.
Cut the grass, pull weeds, trim hedges, and add some color with flowers or potted plants. By taking care of your yard, you can make a great first impression on buyers and increase your chances of selling quickly.
Why List Your Home on MLS?
The MLS is the multiple listing service that real estate agents use to list homes for sale. When you list your home on the MLS, it will be seen by thousands of potential buyers and their agents.
This gives you a much better chance of selling quickly and for a higher price than if you were to sell on your own.
How to List Your Home on MLS
If you are working with a real estate agent, they will list your home on the MLS for you. If you are selling on your own, you can list your home on the MLS by signing up for a flat fee MLS listing service.
These services list your home on the MLS for a low, one-time fee and typically offer other helpful services as well, such as yard signs and open house flyers.
What to Expect Next
Once you list your home on the MLS, you will start to receive showings from potential buyers. It is important to be flexible with showings and allow buyers to see your home at their convenience. You may also receive offers from buyers.
Navigating the Negotiating Process
Once you receive an offer on your home, it's time to start negotiating. If you receive an offer that is below your asking price, you can counter the offer or reject it outright.
Once you accept an offer, the buyer will usually have a home inspection done. This is to ensure that there are no major problems with the property.
After the inspection, the buyer may ask for repairs to be made or they may back out of the sale altogether. If everything goes smoothly, the sale will close and you will receive your money from the buyer.
This can be a tricky process, but there are a few things to keep in mind. First, don't get too attached to any one number.
Second, be willing to compromise. Third, remember that the goal is to sell your home quickly and for the best price possible.
What to Do When Your Home Is Under Contract
Once you have a buyer who is ready to purchase your home, you will need to sign a sales contract. This is a legally binding document that outlines the terms of the sale.
Be sure to read it carefully and ask for clarification if anything is unclear. Once the contract is signed, it's time to start packing.
Final Thoughts:
Tips for Moving After Your Home Sells
If you're selling your home, chances are you'll need to move afterward. This can be a stressful process so keep these tips in mind for stress-free moving , First, start packing early.
Second, hire a reputable moving company. Third, create a list of all the tasks that need to be completed before moving day.
By following these tips, you can make a moving day as stress-free as possible.
Plus, by avoiding common mistakes, you can make the whole home selling process much smoother. All while increasing your chances of selling quickly and for a great price.