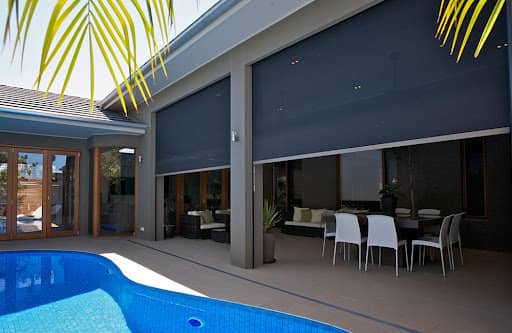 When you need protection for your outdoor areas from adverse weather conditions, you can sure have the zip screen external blinds for the area.
With this amazing innovation, you can also spend quality time with your friends and family at outdoor. This looks great if you want to give a makeover to your outdoor area. 
You can also conduct small BBQ party at your outdoor and keep your guests safe under these blinds. 
You can have these in various different styles and materials according to your choice. These zip screen remains no gap while zipped and provides an edge-to-edge fit. 
These can be your ultimate outdoor solution once you know all about them. Let's get to know some of its benefits first.
Benefits of Zip Screen Blinds
Protection:
As it claims, it protects you from dust and insects. Although, it is advised not to hang it while the heavy wind is blowing.
Otherwise, in normal circumstances, it allows a minimal amount of air and light to enter your room.
It also prevents insects from entering, and you can create a safe environment your guests.
Cost-effective:
You can customize these blinds according to your needs. You can always have the zip screen external blinds installed in your budget.
There are various types of blinds available at different prices and you can compare their prices to choose an affordable one. 
Custom-made:
Do you have windows or balconies that are very different in size from each other? Worry not. You have the option to have it custom-made. It fits and caters to all your needs and choices. 
You can measure your outdoor area where you want to install it and you can customize the same according to your needs. 
Guaranteed Privacy:
Need to make some space in your house or outdoor a private one? Well, zip screen external blinds could be the right choice for you.
With help of these, make an open space a private and separate one. 
You can use it for your office purposes as well. Imagine you have guests over, and fellow workers are peeping through your cabin while passing by. Disturbing right? The easiest solution is getting the zip screen installed.
Easy to install:
It has two operational styles; manual and motorized. Therefore, you can operate it with remote control or use it with manual gear as well.
Adjustable transparency:
You can choose the transparency of your zip screen external blinds. You can choose one depending on how much privacy you need while it is hung. 
Easy Maintenance:
These zip screen external blinds are really easy to maintain. These are very much hassle-free in nature. You do not need to pay much time and money to keep these maintained.
Its low maintenance quality makes it more desirable and you can easily clean your blinds in a normal way.
Add Style And Aesthetic:
It is needless to say how much zip screen external blinds add to the style of your house.
It can change the entire outlook of your outdoor. You'll be amazed by the results you get.
Use it Anywhere:
zip screen external blinds are not limited to only external usages. You can install and enjoy the benefits of it anywhere you want.
Be it your office, commercial property, outdoor, indoor, balcony veranda and what not.
Private decks and patios can also have these installed. Its versatility of use makes it user friendly!
Conclusion:
If you need some private space or need your space to be protected from dust and insect; zip screen external blinds always comes to your rescue.
Not only that, you can enjoy many benefits of these blinds once you get them installed.