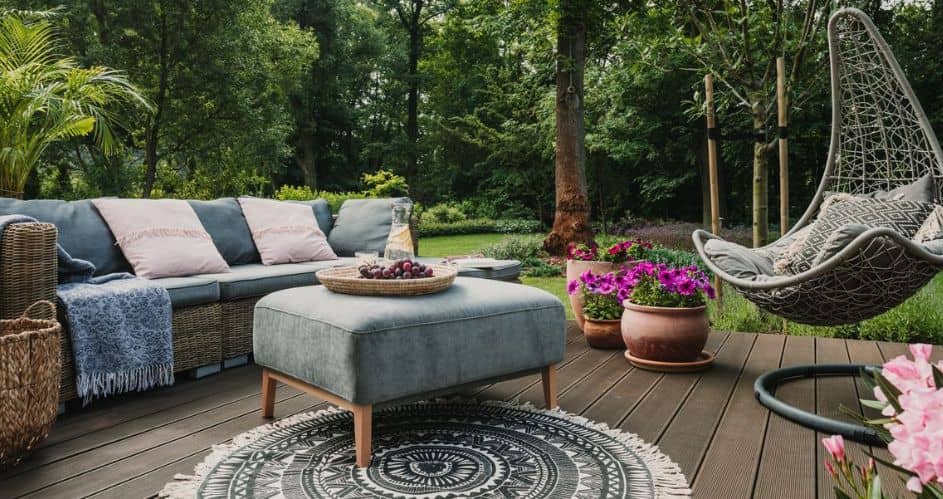 Whether it's an elegant garden rug, a sweet-scented lemongrass candle, or some stylish lamps, beautifying your outdoor space is one of the simplest ways to add personality and vibrancy to your home.
If your outdoor space appears bland, check out these budget-friendly garden accessories for new ideas.
Your outdoor decoration ought to express your personal taste just as much as the interior of your home does – however, it's often neglected. Decorating your outdoor space to match your aesthetic taste can appear difficult, but it doesn't have to be.
How To Accessorise Your Outdoor Space
Creating a distinctive, hospitable outdoor area can be as easy as adding new outdoor decorations. Consider the elements and factors that are important when decorating your interior: what colours, designs and texture appeal to you?
Do you prefer a maximalist or a simple design? Add your interior decor colours to the outdoor area, integrating colour and texture to achieve a cosy atmosphere that embodies your unique aesthetic.
How can I spruce up my garden?
Before planning for full landscape remodelling (which might be very expensive), consider the various kinds of outdoor decor that could upgrade your space.
If you're seeking some budget-friendly ways to refresh your outdoor space, here are a few ideas:
Furniture
Depending on your style, you can opt for trendy aluminium, traditional antique iron, beautiful wicker, or genuine wood furniture. Remember that your furniture must be cosy and long-lasting as well as stylish.
A popular emerging trend in garden furniture involves combining different materials for a unique appearance. You do not have to buy exact matching five-piece porch sets from major department stores.
Experiment with combining furniture styles, incorporating new and vintage pieces, or adding an attractive, one-of-a-kind antique table.
Decorating options are numerous; however, avoid going overboard. Don't waste your hard-earned cash on accent pieces that do not match the rest of your decorations; outdoor furniture should be pleasant.
Another method is using all-weather furniture for your outdoor spaces. Once a niche item, it is now seen in retail stores such as Pottery Barn and Home Depot.
This upscale leather outdoor furniture is weatherproof and built to last. If you want a sophisticated, opulent look and your budget allows it, this might be a good option.
Deck
Deckscaping is an inexpensive way of transforming your outdoor living space into an oasis. You can smooth the outer borders of your deck and add colourful accents by adding flowers or plants.
Alternatively, placing planters on the deck with an array of annuals and perennials will quickly transform an unattractive deck into a haven brimming with seasonal blossoms.
There are many types of decking boards. They include traditional wood, PVC composite and vinyl decks. For an eco-friendly, sustainable option, choose a PVC composite deck.
This type of deck board comes in a wide variety of colours, has low-maintenance features, and is moisture-resistant.
Fabrics
Outdoor fabrics are the best way to beautify your outdoor space. You will find a wide range of amazing colours, designs, and materials available today.
They can help create a new look, a pop of colour, or a relaxing ambiance to a space. Modern fabrics are also resistant to mould, discoloration, and moisture.
Fabrics are used for accent cushions, outdoor coverings, retractable shades, pergolas, and outdoor pillows to add a splash of lively colour.
If you'd like to create a classic and elegant feel for your garden area, try using a variety of materials and textures while maintaining a consistent colour scheme.
Plants
Adding vibrant colours with flowers and plants is another excellent way to jazz up your outdoor space. For instance, you can cultivate Clematis over your gazebo for an elegant appearance or star jasmine for an enchanting vibe.
A trimmed garden decorated with topiaries and framed with distinct edges offers an elegant touch. In contrast, containers filled with plants, pots bursting with vibrant flowers like daisies and decorative baskets offer a more simple, cosy appearance.
If eclecticism is your thing, use odd planters like old antique furniture pieces or even old tea kettles to show off your creativity.
Artwork
Whether you buy wall art at a landscaping centre, repurpose a quirky antique, or use your artistic abilities, decorative items add flavour, eye appeal, and a touch of fun to any outdoor space.
Artworks consist of sculptures, antique birdhouses, special planters, tiles, bouquets, wind bells, or even a raised garden. Repurposed items like an old window or a wooden bed can be transformed into appealing focal points. Feel free to express yourself creatively.
Accessories are key elements of any outdoor space. With outdoor carpets, light bulbs, cushions, throws, clocks, and thermostats, you can spruce up your outdoor area and add more charm.
Don't forget to set up the table. Use stylish or colourful tablecloths, table linen, serving dishes, and glassware to showcase your style.
Creativity can help you save money while adding beauty to your outdoor area.
For instance, add a container filled with freshly cut flowers from the backyard for an attractive centrepiece, corals or oysters from your family holiday to evoke pleasant memories.