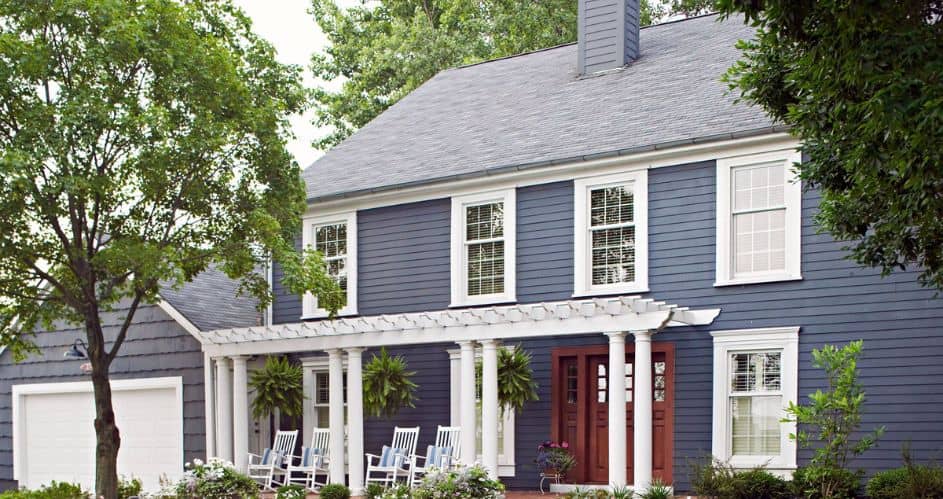 Your home is your pride and joy: it's one of the largest investments you'll ever make in your life, so it's essential that it be kept in peak condition both physically and aesthetically.
One of the most crucial components to consider is siding: it not only plays a significant role in the aesthetic appeal of your home, but it also serves as a protective barrier against the elements.
When it comes to selecting the best siding for your home, there are a variety of options to consider. In this article, we'll explore the various types of siding available, the factors to consider when selecting siding, and the benefits of each option.
What Are the Top Siding Options for Denver Homes
Vinyl is the most popular option across the United States
Many consider vinyl siding the king of siding in America because it's low maintenance, affordable, and easy to install.
This economical option is suitable for nearly any climate, including Colorado, meaning you can enjoy the beauty and versatility of vinyl regardless of where you live. Because it's available in a variety of colors and styles, you can customize your home's look to your liking.
Traditional and aesthetic, wood siding is eco-friendly
When you think of Colorado, you often think of hardy mountaineers enduring harsh conditions in the wild Rockies.
While we now enjoy many conveniences that our forefathers couldn't have even dreamed of, we can still capture that spirit of adventure and open horizons by choosing wood siding for our homes.
Wood siding is a traditional option that's known for its natural beauty and durability. It's available in different types of wood, such as cedar, redwood, and pine, and can be painted or stained to match your home's aesthetic.
Better yet, it's quite eco-friendly, as it is sustainably harvested from trees and has little chemical treatment.
Fiber cement siding will last for decades
Fiber cement siding is a blend of cement, sand, and cellulose fibers that mimics the look of wood siding but requires less maintenance. It's durable, resistant to insects and fire, and comes in a variety of styles and colors.
While a bit costlier than vinyl siding, it's a great investment because it will last longer and needs little upkeep.
Withstand nature's wrath with metal siding
Metal siding, typically made from aluminum or steel, is known for its durability and low maintenance. It's also available in a variety of styles and colors, making it a versatile option for any home.
Additionally, metal siding can be recycled at the end of its lifespan, making it an eco-conscious option.
Low maintenance and unobtrusive, brick siding is a classic choice
Last but not least, brick siding is a durable option that requires little maintenance and is fire-resistant. It's available in a variety of colors and styles, and can be customized to match your home's aesthetic.
Brick siding is built to last, and you can be assured that your home will be around for generations to come with this classic exterior.
There are a number of factors to consider when purchasing siding
The climate in your area plays a significant role in the type of siding you should choose. Denver is known for its bitterly cold winters and high winds, so you'll want to select a siding material that's durable and resistant to extreme temperatures.
Consider the amount of maintenance required for each siding material. Some materials, such as vinyl and metal, require little maintenance, while wood siding requires more upkeep.
If you're very house proud, you might enjoy taking meticulous care of your siding; however, if you're a busy person always on the go, you'll want to seek an option that doesn't require much fuss.
Siding materials vary in cost, so consider your budget when selecting siding for your home. Keep in mind that while some materials may be more expensive upfront, they may require less maintenance and last longer, making them a more cost-effective option in the long run.
Ultimately, the best siding option for your home will depend on your specific needs and preferences. Consider the climate in your area, the amount of maintenance required, the aesthetic of your home, and your budget when selecting siding.
It's also important to work with a reputable Denver siding company who can help guide you through the selection process and ensure that your siding is installed properly.
Final thoughts
We all have our own unique personalities, and our homes should reflect that both inside and out.
Siding is a great way to make a home stand out while still protecting the interior from damage from extreme weather, so it's an important decision that shouldn't be taken lightly.
Each type of siding has its own benefits, from affordability to looks, and you might find yourself overwhelmed by choices.
By working with a qualified siding company in Denver, you can get personalized advice that will assist you in choosing the material that's best for your home.
When it's time to upgrade your exterior, be sure to consult with a siding company to find the siding that will show your home's very best side.