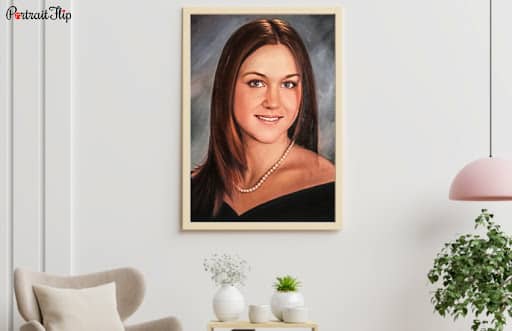 Nothing would exemplify the personality of your home like a few pieces of vibrant artwork on the walls. They not only add that pop of color but also help define the space and align your decor together.
Wall painting is a great way to add a personal touch to any home decor. It can be used to bring a unique and creative element to the decor while also serving as a captivating focal point.
Painting can be used to express the homeowner's individual style and taste, adding a splash of color and life to any home. 
So if you've been meaning to adorn your space with some cool new flair, you've assembled a few painting wall designs. Buy landscape paintings, and Banksy paintings. They add the luxury and style to your walls.
Art is something that would give your home a unique flavor of its own. Abstract, Modern Art, Pop Art to Contemporary Art, artists have nurtured the world with different styles of paintings.
You can explore these paintings for room decor and give your space a brand-new essence and breathe new life into your home and your spirit.
So if you've been meaning to adorn your space with some cool new flair, we've assembled a few painting wall design ideas for you. From landscape to abstract if you are looking for captivating paintings for walls then I've got you covered.
These paintings for wall decor will add a dose of character to any room they're in. Just check them out and see for yourself below!
Bring Home A Classic
How many of you are art lovers out here?
If you are someone who adorns and appreciates classics, then this painting idea for wall is going to be your favorite pick. Famous paintings have been a crowd favorite for centuries!
Have you ever imagined having something so beautiful and pristine as wall decor? Yes, you heard that right, you could now bring these Museum Quality Painting Reproductions to grace your walls. Get your masterpiece painted and have a treat of the classics in the comfort of your home.
You can choose to commission a reproduction painting of your choice for example, "Lady In Lilac" if you wanted to have tranquil yet colorful art on your walls then this would fit in just perfectly. Choose an artwork of your choice and send it over to PortraitFlip and see your walls come to life.
Set The Mood With Mural
Ever thought of framing a mural painting? Mural paintings can be dated back to the Upper Paleolithic times. It is popular among those who are fond of historic paintings because it encapsulates a moment in time. So if you are looking to add a rustic or country feel to your home then mural paintings will do it for you.
Over the years there has been a growing interest in bold textures and colors and mural paintings are all about the bold. Murals show large images or patterns that add a bold personality to your walls.
You can even get it in a custom size or even painted right onto the wall. So if are aiming for a show-stopping treatment with your paintings for wall decor then this is just it.
Play With Some Abstract
Nobody wants a bare plain wall in our homes. But many of them like to stick with their neutrals and whites. So if you are minimalistic then you can achieve a colorful home without really adding much. Yes, you heard that right!
Traditional or classical artworks generally consist of a wide array of colors including complex shapes and textures. While on the other modern abstract art reduces that intricacy to a limited color palette and simplified shapes and forms.
If you have a modern home, with an open kitchen and a living room, then I would say go for an abstract painting. It will help bring that pop of color to your otherwise neutral layout and enhance the color scheme of your entire home.
Think In 3D
This painting idea for wall is for those who like to go all bold and loud with their decor. A three-dimensional art piece or a 3D art is something that will capture every eye that enters your space. This intricate work of art combines the painting with a three-dimensional feature.
These paintings are well suited for larger walls because in 3D paintings the objects tend to extend from the frame and give an illusion of a larger frame.
This painting will not only be a crowd pleaser but also a novel piece as a wall hanging painting. If you are someone who loves that extra edge then transform your home into a luxury adobe with this painting!
Bring The Nature In
Everyone loves to dwell outdoors and relish the bounty of nature. But it's often difficult to find some quality time to indulge in nature. However, you could still feel nature's presence at home by adorning those plain walls with landscape paintings.
Such as a painting of a lush mountain can make you experience that nature rush and a sense of wonder at the same time. You can hang the painting on any blank wall and redesign your home office, kitchen, living room, or bedroom to bring nature in.
Replicating nature at its best, landscape paintings are the perfect way to reconnect with Mother Nature. So bring a bit of nature into your home by investing in a statement landscape painting of your choice.
Ending Note
"Art is something that makes you breathe with a different kind of happiness". When considering painting ideas for walls, it's important to understand that they should add vibrancy to the rooms they occupy.
Your aim should be to choose a painting style that perfectly aligns with your existing decor and color palette. Also, don't forget to choose the painting in the right size taking into account where you want to hang them.
These painting wall design ideas are one of the best ways to add that sophisticated touch to your decor.
Always make sure to choose a painting that will deliver a visual treat through the themes, shapes, and colors. So use these paintings for wall decor and see how it instantly adds that flush of color to your home.