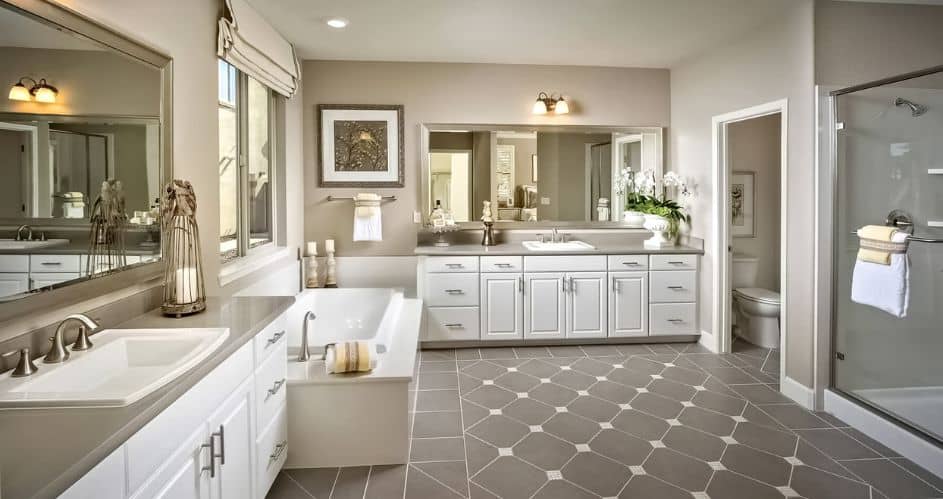 Renovating a bathroom can be an excellent investment for homeowners, as it can increase the value of a property and improve the overall aesthetic of the space.
Indeed, a bathroom renovation can also improve the functionality and efficiency of the room, making it more enjoyable to use on a daily basis. In this article, you can learn about some of the key reasons why homeowners should consider renovating their bathroom.
Increase the value
Improve the functionality
Address any safety issues
Create a relaxing space
Consider improving accessibility needs
Reasons Why You To Need A Renovate Bathroom
1. Increase the value of a property
If you are a property owner then you should be aware that renovating a bathroom can significantly increase the value of a property, making it a smart investment for homeowners.
Moreover, according to real estate experts, a bathroom renovation can provide a return on investment of up to 70%.
By updating the fixtures from a bathroom warehouse, adding new tiles, and modernizing the space, you can create a bathroom that is attractive to potential buyers.
2. Improve the functionality of the room
Furthermore, a bathroom can become outdated and inefficient, making it difficult to use and maintain. Indeed, renovating your bathroom can address these issues, making the space more functional and efficient.
For example, adding a new shower or bathtub can make your morning routine more enjoyable, while replacing an old toilet with a low-flow model can reduce water waste and lower your utility bills.
3. Address safety concerns
In addition, an old bathroom can present safety hazards, such as mould and mildew, slippery surfaces, and outdated wiring. Renovating a bathroom can address these problems, creating a safer and more secure space for you and your family.
Likewise, installing slip-resistant flooring, replacing old electrical wiring, and adding proper ventilation can improve the safety of the room.
4. Create a relaxing space
The bathroom is a space where you can relax and unwind after a long day at work, so it is important that it is comfortable and inviting.
Renovating a bathroom can help create a more relaxing and enjoyable space by adding features such as a spa-like shower, a comfortable bathtub, or even a heated towel rack.
5. Consider improving accessibility needs
Finally, if you or a family member has mobility issues, renovating your bathroom can make it more accessible and easier to use.
Installing grab bars, adding a walk-in shower or bathtub, or lowering the height of the sink can all make it easier for individuals with limited mobility to use the bathroom.
These changes can also increase the safety and comfort of the room for everyone who uses it as well as increase the value of the property.
Therefore, in conclusion, renovating a bathroom can provide a wide range of benefits for homeowners, including an increased property value, improved functionality, enhanced safety, and greater comfort and relaxation.
Regardless of whether you are looking to update an old, outdated bathroom or create a more accessible and functional space, a bathroom renovation can be a smart investment that can improve your quality of life and make your home more attractive to potential buyers.